Welcome to Thomsen's 4 Winds Auction & Appraisal
Thomsen's 4 Winds Auction & Appraisal was founded by Ken & Valerie Thomsen in 2003. We are a full service auction company. We are there for you from decision making through cleanup. We will come at your request for a free consultation. We will provide you information for planning and preparing for an auction. We have a plan to suit your needs.
We also offer certified personal property appraisals. Whether you are needing the appraisal for insurance or any other need, give us a call for your confidential appraisal.
Our mission is to make the most of your sale.
We believe that the Auction way  is the most effective way of
merchandising your property. At Thomsen's 4 Winds Auction your sale is not just another auction
ITS AN EVENT!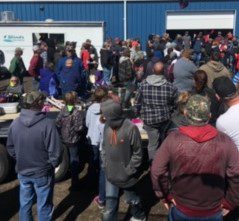 ---

We are a member of the North Dakota Auctioneers Association.